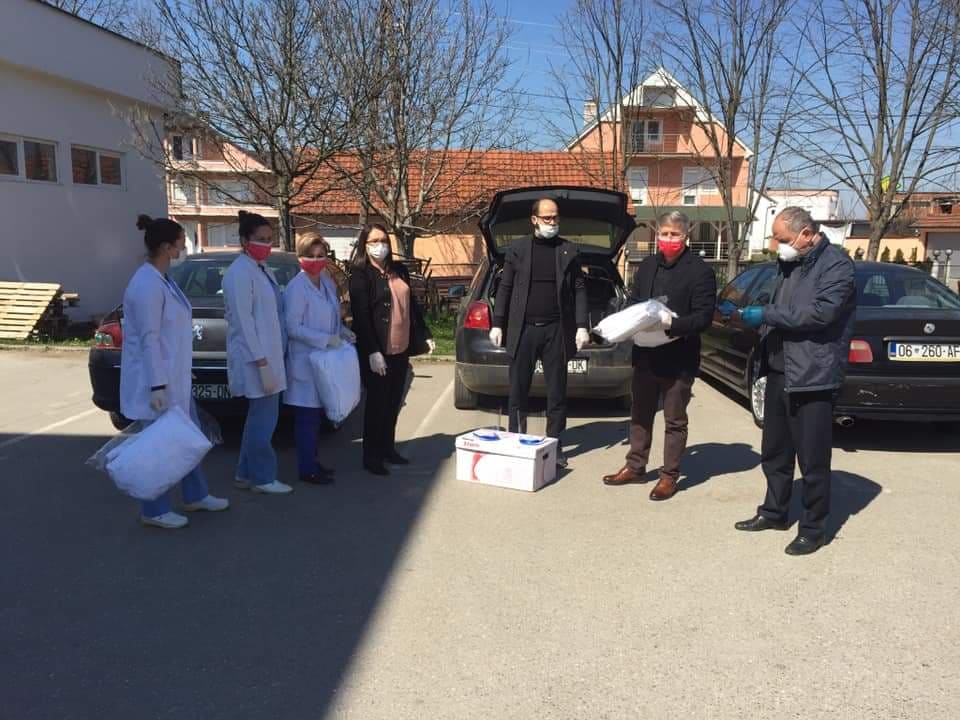 AXYZ continuous to help the community fighting COVID-19.
AXYZ continuous to help community in fighting COVID-19.
AXYZ is a new startup, established in 2019 as part of the VentureUP Business Incubator, supported and funded by the European Union Mission in Kosovo. AXYZ deals with design and 3D printing, and recently started producing face masks as a protective measure against the COVID-19 for medical staff of medical institutions in Kosovo.
So far, AXYZ has produced more than 500 face masks for medical personnel at the University Clinical Center of Kosovo – UCCK and many of Main Family Medical Centers throughout Kosovo. AXYZ has so far produced all the masks for free based on its own capacity and it has continued to produce free masks with the help and support with purchasing raw material – filament by various donors.
The required material (filament) is #Filament C-TECH, PLA, 1.75mm, 1kg, which can also be ordered in Gjirafa by clicking the link: https://bit.ly/2UJyRnm
We appeal to all those who wants to help to contact the company AXYZ directly for the details of the order address and other aspects.
Thank you all for your willingness to help the country on this time of crisis.
On this occasion, we want to thank Ministry of Health, the National Institute of Public Health of Kosovo, Kosovo Police and all others for their hard work to serve citizens.
AXYZ po vazhdon të ndihmoj komunitetin në luftimin e COVID-19.
Kompania AXYZ është startup i ri, i themeluar në vitin 2019 si pjesë e Inkubatorit të Biznesit në VentureUP, mbështetur dhe financuar nga Misioni i Bashkimit Europian në Kosovë. AXYZ merret me dizajnimin dhe shtypjen në 3D të maketave dhe produkteve të tjera, dhe së fundmi, ka filluar prodhimin e maskave mbrojtëse për fytyrë si masë mbrojtëse kundër virusit #COVID-19 për personelin mjekësor të institucioneve mjekësore në Kosovë. 
Deri më tash, AXYZ ka prodhuar më shumë se 500 maska mbrojtëse të fytyrës për personelin mjekësor në Qendrën Klinike Universitare të Kosoves – QKUK, dhe shumw Qendrave Kryesore të Mjekësisë Familjare në gjithë Kosovën. AXYZ, të gjitha maskat deri më tash i ka prodhuar falas në bazë të kapacitetve vetanake, sidoqftë, ajo po vazhdon prodhimin  e maskave falas me ndihmën e mbështetjes që po pranon nga donatorë të ndryshëm përmes blerjes së lendës së parë- filamentit.  
Materiali (filament) që kërkohet është #Filament C-TECH, PLA, 1.75mm, 1kg, i cili mund te porositet edhe në Gjirafa përmes linkut: https://bit.ly/2UJyRnm
Bëjmë apel tek të gjithë ata që dojnë të ndihmojnë të kontaktojnë direkt kompaninë AXYZ për detajet e adresës së porosisë dhe aspektet tjera.
Faleminderit të gjithëve për gatishmërine për të ndihmuar vendin në këtë kohë krize.
Me këtë rast, falënderojmë Ministria e Shëndetësisë, Instituti Kombëtar i Shëndetësisë Publike të Kosovës, Kosovo Police dhe gjithë të tjerët për punën e palodhshme në shërbim të qytetarëve.